MS and BS Degrees in Sustainability at Goshen College
Goshen College is a top-ranked liberal arts college in Indiana known for leadership in intercultural and international education, sustainability and social justice. 
Goshen offers undergraduate programs in four sustainability related areas, including Sustainability Management, Sustainability Studies, Sustainable Food Systems, and Environmental & Marine Science. The college also offers a graduate program in Environmental Education. 
Know a high school student interested in studying sustainability management? Goshen College, a top-ranked private liberal arts college in Indiana, offers a major and minor in Sustainability Management and opportunities to study business in Ecuador and Spain! Learn more at
goshen.edu/sustainabilitymanagement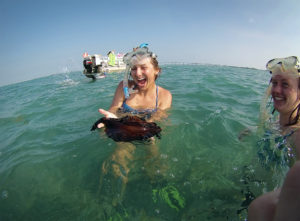 Goshen College has been named by The Princeton Review and Sierra Club as one of America's greenest colleges. The extended campus includes the Merry Lea Environmental Learning Center, a 1,189-acre natural sanctuary, which is also home to one of the country's top-ranked college farms. Each year, the Merry Lea Environmental Learning Center hosts students for the Sustainability Leadership Semester and Agroecology Summer Intensive, which are open to students of any major and any school. The college's sustainability related courses are offered in places as diverse as Kenya, Ecuador, the Bahamas and at its marine biology lab in the Florida Keys.
Learn more at goshen.edu/sustainability