Webinar with Dr. Professor Wayne Visser

Date and Time: September 2, 2015 at 9:00 Pacific Standard Time Zone
Title: Sustainable Frontiers: Unlocking Change Through Business, Leadership, and Innovation
Description:
Join the Sustainability Management Association's webinar with the world leading expert on sustainable business Dr. Wayne Visser. This webinar will focus on how business can be a catalyst for a sustainable future. Dr. Visser will review the essential messages of his new book, Sustainable Frontiers.
Using leading edge case studies, Dr. Visser will present the eight keys to unlocking transformational change, namely:
• Transformational leadership
• Enterprise reform
• Technology innovation
• Corporate transparency
• Stakeholder engagement
• Social responsibility
• Integrated value
• Future-fitness
Far from being another tame review of corporate social responsibility and sustainable business initiatives, the webinar (like the book) will dispel the myths of sustainability and will challenge us to let go of old systems – and old approaches to sustainable business and social responsibility – that are failing to deliver economic, social and environmental transformation.
Target Audience:
Professionals, students and academics interested in sustainable business, social responsibility, business ethics, technology innovation, and change management.
About Wayne Visser
Dr. Prof. Wayne Visser is Director of the think-tank and media company, Kaleidoscope Futures. His work as a strategy analyst, sustainability advisor, CSR expert, futurist and professional speaker has taken him to over 70 countries in the past 20 years to work with over 130 clients, ranging from companies like Coca-Cola, Dell, DHL and HSBC to international organisations like the UNEP, the World Bank and WWF. Wayne is the author of 23 books – including his latest, Sustainable Frontiers – and a guest columnist for The Guardian newspaper. He has been recognised as one of the world's top 48 'thriveability' leaders, a top 100 influencer on Twitter in CSR and sustainable business, a top 100 thought-leader in trustworthy business and a top 100 global sustainability leader. Wayne is the Founder of CSR International and previously served as Director of Sustainability Services for KPMG and Strategy Analyst for Capgemini in South Africa.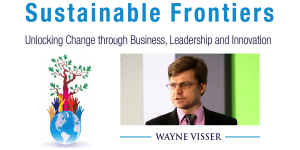 Certified Members:
All webinars count for one-hour of continuing education credit toward your certification.
Login Information:
1. Please join my meeting.
https://global.gotomeeting.com/join/564014277
2. Use your microphone and speakers (VoIP) – a headset is recommended.
Or, call in using your telephone.
Dial +1 (872) 240-3212 +1 (872) 240-3212
Access Code: 564-014-277
Audio PIN: Shown after joining the meeting
Meeting ID: 564-014-277
GoToMeeting®
Online Meetings Made Easy®
Not at your computer? Click the link to join this meeting from your
iPhone®, iPad®, Android® or Windows Phone® device via the GoToMeeting app.