Register Here to attract top talent!
Join the first Sustainability Virtual Career Fair to attract top talent from the C-Suite to the frontline team.
When: Thursday, October 4, 2018 from 11:00am - 3:00pm PDT. Recruiters can choose their own online chat times during the event.
Who: Business, government agencies, NGOs, and academic institutions are all welcome to recruit.
The event is free to attend for jobseekers! Since it is online, you can attend the event from anywhere! Jobseekers please register here. Registration remains open until the event is over, but you will want to create your profile and upload your resume/cv beforehand.
Top Reasons to Participate for Recruiters
Lower recruiting costs by using our online virtual solution to screen and recruit quality candidates
Interact in your own chat room with the option to conduct video interviews
Unlimited access to all registered candidates' information including exporting electronic resumes
Save time, travel, and staff required to participate in all day, on-site events
Eliminate transportation and overhead costs associated with booth design and production
Register by July 26, 2018 to receive the recruiter's Early Bird rate. Sponsorship are available to showcase your pride in managing for sustainability. Together we will continue to grow green jobs and the number of organizations embedding sustainability into strategy.
+++
At the Sustainability Management Association we like to have fun. We find that creating a lifestyle of sustainability changes our lives for the better. So join us at any of these fun events!
Comedy Show March 2nd from 7pm - 9pm, Chico Women's Center 592 E. 3rd St. 
Purchase tickets here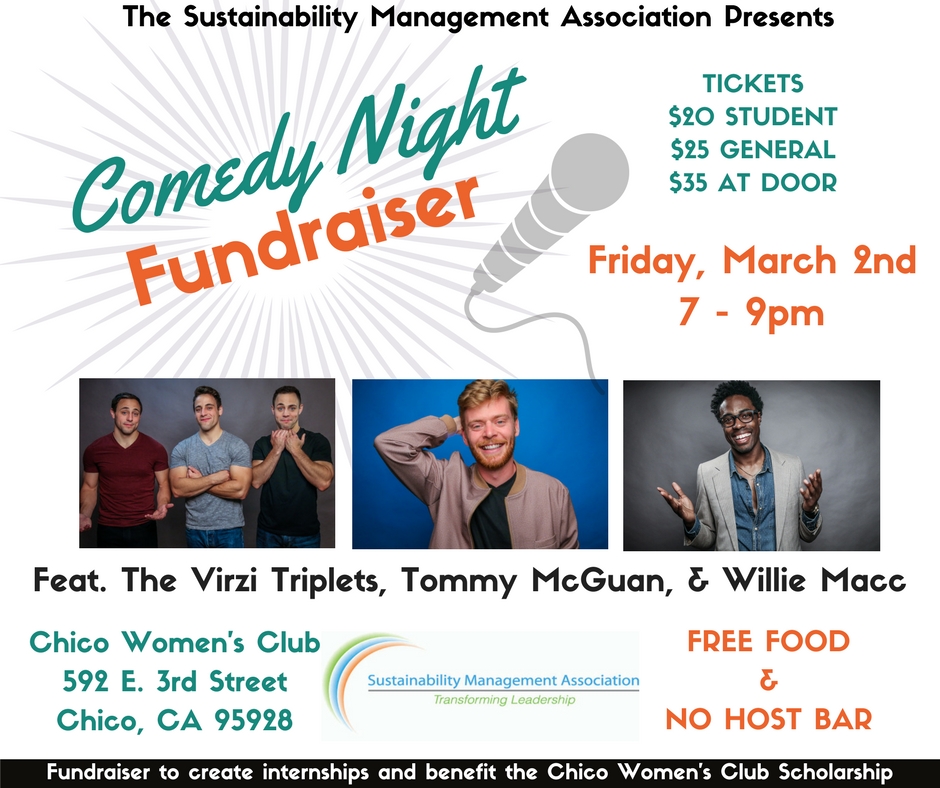 Make a Social Impact and Take the Strawless Challenge
Take the challenge go strawless and eliminate one time single-use plastic straws.
If you are a business, would you consider offering straws on demand?
For the rest of us, let's bring our own straw (BYOS) with some very cool resuable products that you can find here. Join the challenge to win free prizes from Chico Bag and Klean Kanteen! Join the challenge at http://www.strawlesschallenge.com
Network with the Members of the Sustainability Management Association
Follow us on social media:
Twitter and Instragram @smapartner
Facebook and LinkedIn @sustainabilitymanagementassociation