Get Certified in Sustainability Management
Learning or Leading – there's a certification designed just for you.
Gain a Competitive Advantage with the Sustainability Management Certified Associate or Professional Accreditation
Managing sustainability is a fast-growing field. Certification is available in two-tiers based on your professional experience.
Sustainability Management Certified Professional (SMCP) – the premier designation reserved for professionals with two-years of work experience and exposure to a body of knowledge
Sustainability Management Certified Associate (SMCA) – the designation for students or professionals who wish to certify their general knowledge of sustainability management frameworks and methodologies
The certification certifies your understanding and retention of a body of knowledge. The certification examination questions are based on a compilation of well-respected practices in sustainability management. The certification was developed by professionals for professionals with practical KSA's that you can implement today.
Learn more
about how the certification was created. SMA created the first certification in managing sustainability. The SMA serves three main purposes:
To provide certification and education for managers who are learning or practicing Triple Bottom Line sustainability management in any type of organization. Learn how to manage for sustainability from strategy to project management. Learn the language of sustainability, how to measure and report project outcomes, and how to build a culture around sustainability.
To certify professionals with an accreditation that attests to exposure to a body of knowledge (the study guide) to learn the necessary knowledge, skills, and abilities of sustainability professionals. Obtain your credential with an online exam and give yourself, and your organization, a competitive advantage.
To provide a global workforce with a powerful network of like-minded professionals. We are creating the field of sustainability management together.
Convenient, affordable, and accessible to professionals worldwide.
Certification is best suited for business owners and managers, governmental and nonprofit managers, and of course sustainability managers. Every employee plays a role in the journey toward sustainability! Many organizations choose to certify their entire management team—from the human resources department to facilities management.
An exclusive offer available only to students who wish to certify their general knowledge of sustainability management.
The designation for recent graduates and professionals who wish to certify their general knowledge of sustainability management.
The premier designation reserved for professionals with significant experience and exposure to a body of knowledge.
Two-Years Experience Required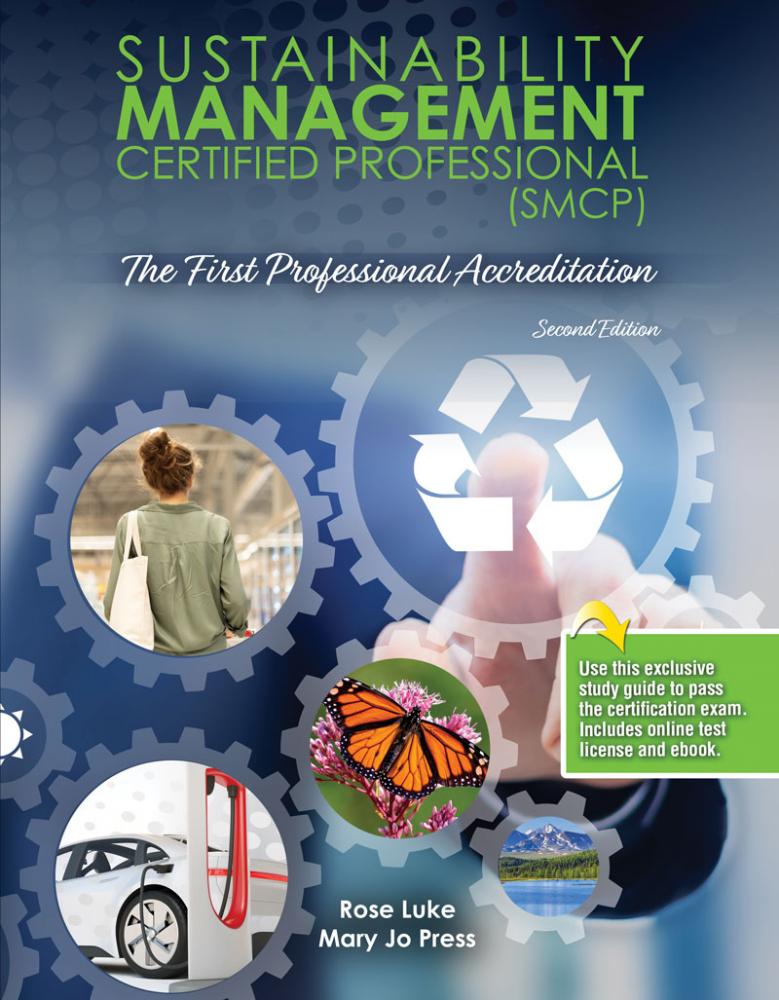 $92.61 print
$46.31 ebook
The online exam license username and password can be located in two ways:
Print book: front cover Mobius
Ebook: on your invoice emailed confirmation – about Mobius
Next, please email [email protected] to receive an access code and submit your resume.
You'll receive a reply email confirmation that you can test anytime within the next 90-days.
The certification exam is accessible worldwide. The required pass rate is 70% by answering 70/100 exam questions correctly. You will receive a test score upon completion.
You have three attempts over a one-year period to pass the exam.
Attempts Over a One-Year Period
Once you earn the SMCP or SMCA accreditation, here is how you retain certification:
15-hours of continuing education are required over each three-year period
Keep a file of attendance at conferences, webinars, seminars, training courses, CEU credits
Auto-renews on PayPal

$50 annual certification renewal
$50 annual membership dues

If you earned the SMCA, you will automatically be upgraded to the SMCP credential upon two-years of professional experience in the field of sustainability. Just contact us with this good news!
Required Continuing Education
Annual Certification Renewal
Annual Membership Renewal
Knowledge is power. We believe in the power of creating a ripple that becomes a wave.
Please encourage your network to learn about sustainability.
Refer a talented professional to get certified and receive a special incentive. Just ask your friend to add your name in the referral box and we'll be in touch. It's that easy!
Disclaimer:
SMA does not guarantee that certification will produce all desired results. The SMCP and SMCA accreditations attest that a certified individual has been exposed to a body of knowledge that contains the knowledge, skills, and abilities to manage for sustainability.