John Handy, Western Region Sales and Business Development
In his position at Powersmiths, John supports the Western Region Sales and Business Development primarily in Southern California.  John delivers energy efficiency and infrastructure improvement solutions to a wide range of customers – state, local, commercial – with a specific emphasis on the Federal Market.  John has 7 years direct Federal experience in solar energy as well as extensive experience in project management and public works.  His projects have been California, Arizona and overseas in the private sector and in the US Army.  His projects have been financed through ESPC, UESC, Power Purchase Agreements, and Appropriated Funds; often blending financing methods.
Before returning to the Private Sector and Energy Efficiency, John spent much of time from 2000 – 2010 working on economic development and reconstruction overseas.  The work focused on sustainable development solutions as well as refugee populations.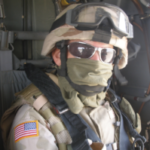 John is a retired Army Colonel, has a Bachelor's Degree from California State University, Chico, a Master's Degree from Chapman University and is a licensed General Contractor in California.  He is also active in the Society of American Military Engineers (SAME) and the Boys Scouts.