Air Pollution Control Officer, Butte County Air Quality Management District
Jim is responsible for directing the air quality programs for the Butte County Air Quality Management District, including air quality planning, public education, residential and agricultural burning,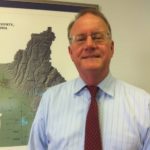 permitting, air toxics and enforcement programs. Butte County has a population of approximately 220,000 residents and is located on the east side of the Sacramento Valley.
Jim has been with the District since 1990, and has been serving as agency director and Air Pollution Control Officer since 2002. Jim is currently the President of the Board of Directors of the California Air Pollution Control Officers Association. He has a bachelor's degree in Geology from the University of California, Berkeley and is a registered Civil Engineer with the State of California.